Structure
This project will gather for the next three years eleven partners: the MATh.en.JEANS association and ten high schools (in Belgium, France, Italy, Poland and Romania). The schools will be involved in the Maths&Languages research workshops in the form of 5 international twinnings.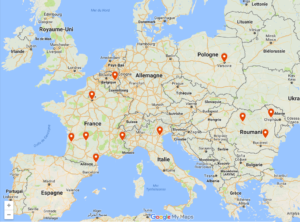 Project main activities
Six transnational meetings (two in France, one in Belgium, Italy, Poland and Romania)
Students short term exchanges (each school will host its twinned school once during the project)
Weekly Maths&Languages workshops involving volunteer pupils and mathematics teachers, languages teachers and mathematics researchers to accompany them . Collaborative work between teachers, researchers and volunteers from MATh.en.JEANS association during the transnational meetings and beyond to set up, test and approve the M&L approach and produce the guide
International congress gathering all the participants and stakeholders of the project organised by MATh.en.JEANS association in 2020
Dissemination of the approach driven by MATh.en.JEANS association

Main objectives
Set-up and test M&L approach
Test and promote Maths&Languages math research workshops (M&L workshops) as CLIL (Content and Language Integrated Learning) activity
Provide MATh.en.JEANS association with feedback on its method from teachers coming from different school systems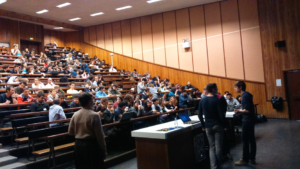 For High-school students:
Improve their level of foreign language and mathematics
Create a real European "young-researchers" community
Discover research and university studies through contact with researchers
Encourage them to pursue scientific higher studies giving them an insight of "real" mathematics
To meet these objectives, the ten partner schools have been carefully selected for their characteristics and the motivation and skills of their teams. Moreover, to bring to light the strong link between secondary schools and upper studies and research in the project, nine universities (or research institutes) of origin of the researchers involved have been integrated as associated partners.